ICITCS2021 Proceeding will be available soon.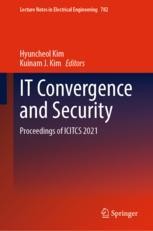 PRODUCTION SCHEDULE:
-Estimated date of Chapter page proofs to contributing authors:
Week of 22-Aug-2021 to 28-Aug-2021
-Estimated Print Publication Date: Sep 2021
*Please note that these dates may be subject to change.
We will notify the contact author when the conference proceedings are fully uploaded and visible on Springer.

ICITCS2021 Proceeding – Updated Schedule